Business Phone Systems (VoIP Phones)
Enhance your business communications, productivity, and collaboration among team members by integrating various communication tools within a Unified Communications system. From desk phones to an office phone system and from VoIP to video conferencing, LBMC can elevate your business to the next level, as your team members will connect in a way never before experienced through integrated communication technology. Whether on premise or in the cloud, the unified communication platform that you select will set your team up for success beyond standard phone systems. The days of relying solely on analog phones (a landline phone), have come to an end. With new features being released, like caller ID, wi-fi calling and phone VoIP technology it may be time to upgrade your telephone networks. Unlimited calling and instant messaging on your cell phone used to be the best part of a phone system, but with LBMC's VoIP services we can turn your office phone system into one of the best tools in your organization.
Client Testimonial

"I wanted to send a quick note to let you know how appreciative I am of the support we get from the LBMC Technology team. This has been a very challenging year for us from an IT perspective, and your team absolutely delivered and stuck with us to get the ship turned around and heading in the right direction for 2017. It was especially important given the transaction we were undergoing to go from public company to private equity owned in the late spring. Robert, Nick, Brad, Matt, Josh, Will and the rest of the team … they all do a great job and help us focus on helping patients. Thank you again and know that we value the partnership with LBMC. Thanks, Scott"
CFO Symmetry Surgical

"We have a unique business and LBMC Technology Solutions is in tune with that. Off the shelf products do not work for us, and LBMC Technology Solutions has continually customized software to fit our unique needs. What's more, LBMC isn't pushy and takes our concerns into consideration when setting timelines and implementing projects. LBMC is s a true partner to our business, and we appreciate how their staff keeps us informed."
Jim Guinn Bandit Lites

"I must say how great it has been to work with Robert and his Network Administration team and that LBMC Technology Solutions has done an extraordinary job. It is very gratifying to enjoy such a long-term relationship with a partner like LBMC Technology Solutions, which now covers about 15 years for me personally, and to have them come through for me again and again when I've needed them. We look forward to continuing the work between FRN and LBMC Technology Solutions going forward."
Richard Rodgers COO, Foundations Recovery Network

"LBMC Technology Solutions' Network Engineering team has our network looking good! Matt is taking really good care of us. He made our Office 365 conversion and firewall upgrade painless. He's making my life easy!"
Mike Howell, Corporate Purchasing & IT Manager, Signal Industrial Products
Switchvox (Unified Communications UC)
Elevate your business phone system with Switchvox, a powerful, ready-to-use phone system that offers best-in-class functionality and user-friendly interface at a fraction of the cost. With both on-premise and cloud solutions, these systems provide many products in one package. Get mobile apps, call recording, desktop faxing, ACD, presence all in one.
Improve your customer experience with your phone system – it will go a long way toward improving bottom line. There are many factors that can affect a customer's experience while on the phone with your team, such as waiting on hold, poor call quality, and inability to connect with the right person or department. Switchvox enhances the customer experience by providing call reporting, Barge, Whisper and Monitor options.
Benefits of Switchvox
Robust Call Reporting – Gain valuable insights with on-demand custom reports that show how your business is handling call volume. Reports include details on abandoned calls, redirected calls and detailed call logs.
Monitor, Whisper, & Barge – These options allow you to do just that – Monitor, Whisper and Barge in on calls to make sure your team are working as they should.
Salesforce Integration – If your organization needs to focus on improving customer service, it's even better when your phone system can integrate with your CRM system. This Unified Communications advantage allows you to integrate with Salesforce or SugarCRM to give your business the advantage it needs.
Interoperability – We understand the importance of maximizing IT investments. For budget-conscious decision makers, preserving a connection to a legacy IP PBX is important as they plan to transition to a UC system. VoIP Gateways can be used to take those next steps in connecting legacy PBX systems.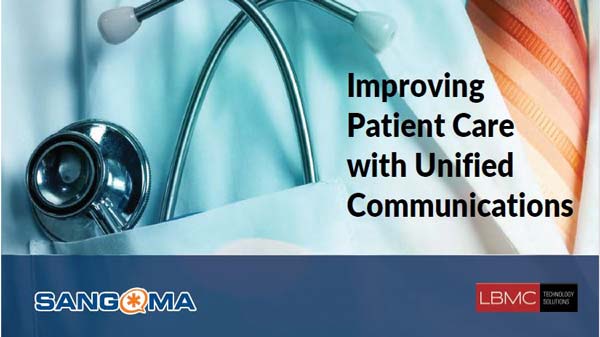 A VoIP business phone system needs to help you do more than answer phone calls. With unified communications you get advanced features, you can connect staff and patients in minutes, respond faster, have patient data at your fingertips from your office or from your mobile phone.
Avoid the bottleneck of appointment scheduling, prescription refills, and patient phone calls. Unified communications can help route and organize incoming calls keeping the office running smoothly at all times. Check out our e-book and see how LBMC Technology Solutions and a phone VoIP with Switchvox can improve your office communication.
Telephony Gateway
Whether digital or analog, telephony gateways play an important role in the way your unified communications system connects to the outside world. These gateways can be rolled out as part of a large deployment or added to current solutions. Offered as both on-premise and cloud based solutions, Telephony Gateways are the instrument in which to bring video and phone solutions to users of your organizations, no matter where they may be.
Benefits of Telephony Gateways
Accessible – Allows service to remote sites
Adaptable – Can be added to existing system
Flexible – Available as on-premise or cloud based
SIP Trunking
When looking for a reliable and cost effective phone system for your organization, SIP Trunking is definitely the way to go. LBMC offers feature-rich SIP trunking services that utilize a standard internet connection to link up with traditional phone lines. With this option, companies can reduce monthly costs and easily grow their organizations. This minimizes the hardware and wiring components of phone systems and makes them very easy to install, move, and utilize.
Benefits of SIP Trunking
Lower IT costs – Better service and more functionality at economical pricing
Easily scalable – A system that grows with your business
Reliability – More reliable than standard phone systems
Fax Solutions
We may not be living in the 90's anymore, but fax solutions are still a necessary piece of business communication, especially when sensitive data is involved. As times have changed, so have the options for faxing solutions. Gone are the days when a fax will sit on the machine and wait for someone to come and pick it up. With the modernization of faxing, companies now have increased efficiency and scalability when it comes to faxing solutions. Add in the fact that these solutions can save your organization money, and you'll be wishing you had these capabilities back when you were preparing for Y2K.
Benefits of Fax Solutions
Increased security – peace of mind for your most sensitive data
Economical – save your organization money with more functionality
Remote capabilities – cloud functionality makes faxes accessible from anywhere
Cloud Hosted Unified Communications
Save money while growing your business with a cloud based phone system. These systems can significantly decrease communication costs by adding cloud hosted technology to existing PBX equipment with instant cloud deployment. By instantly converting traditional phone systems to IP-based communication, companies can enjoy decreased pricing and also keep existing PBX equipment, which means no additional capital costs.
Benefits of Cloud Hosted Unified Communications
Integration – Integrates with your favorite office apps, from Salesforce to Office 365
Cost Savings – Save money by using with existing PBX equipment
Mobile – Taking your communications to the cloud means that it can go anywhere you go
Scalable – As businesses grow, these solutions can grow with them for little cost
Additional Unified Communications Products and Services (VOIP & Others)
VoIP Visual Alerts:
Relay telephone, emergency, safety, and security events with VoIP Visual Alert systems. From strobe lights to LED indicator lighting, LBMC Can assist with a variety of non-auditory alerting systems.
Overhead Paging Solutions:
Overhead paging systems integrate with your VoIP phone system to allow extra depth to the capabilities of the users. Standard speakers, horn speakers, and audio alert systems are among some of the many options for VoIP addons.
Video Phones & Door Controls:
Video meetings are everywhere these days. Collaborate with teammates from all over the world with video phones, or keep your premises secure with video door control systems.
Business Conference Phones:
From personal offices to large-scale training rooms, collaboration is essential for business. Business conference phones allow companies to enjoy conference calls that are as productive as face-to-face meetings.
IP Phone Headsets:
From Bluetooth systems to wireless headsets, LBMC understands the need for accessories that allow employees to maximize their time. IP phone headsets increase productivity and efficiencies in any business.
Softphone Solutions:
Enable teams to communicate with an infrastructure that is already in place through softphone solutions. Whether it runs on your desktop or smartphone, softphone solutions allow your phone to use a data connection to reach your voice service provider. Microsoft Teams and Zoom are just a few solutions for your business.
Wireless VoIP Phone Solutions:
Help employees stay connected – no matter where they are. Our mobile communication solutions offer secure, intuitive and purpose-built devices for a variety of industries.
Emergency Alerts by Quicklert
Easily send and receive messages with Quicklert. This integrated system has the ability to alert ANYONE on ANY device, ANYWHERE. It is the fastest way to enable your business, organization, agency or institution to send and receive messages in real-time.
What Makes LBMC Technology Solutions Different?
For over 20 years, LBMC Technology Solutions has been inspiring greatness through technology. We understand how important a reliable technology infrastructure is to your one-of-a-kind business. As your partner, we evaluate your unique business processes and current systems, then identify and apply the most effective solutions.
LBMC Technology Solutions is an award-winning reseller of recognizable industry standard software. If your business needs are beyond what an out-of-the-box software can offer, we will tailor a custom software solution to fit your specific business needs.
Our consultants build connections, nurture innovation, establish ongoing communication, and collaborate with you to architect the best system integration option to help you run your business better. We value our clients' experience and have made it a critical part of our solutions to ensure we are earning your trust and becoming a long-term partner as your company grows.
Whether you need to supplement or outsource a single function, need an ally you can trust, or are in the market for a comprehensive business partner, LBMC Technology Solutions and our Family of Companies can simply be whatever your business needs us to be.
Contact Us
We're happy to answer any questions you may have. Please send us an email using the form and one of our professionals will get back to you promptly.
Headquarters – Business Phone Systems Nashville, TN:
201 Franklin Road
Brentwood, TN 37027
Phone: 615-377-4600
Office Hours: 8am-5pm, Monday-Friday
Business Phone Systems Charlotte, NC
3800 Arco Corporate Drive, ​Suite 250
Charlotte, NC 28273
704-846-6750
Business Phone Systems Knoxville, TN
2095 Lakeside Centre Way
Knoxville, TN 37922
865-691-9000
Inquiries
To better serve you, please review our communication options for the best way to contact us.
If you are seeking general information. Please check out our FAQ page.
If you are interested in more information, complete the form below to have an LBMC Technology Solutions expert contact you.
Following the Microsoft Dynamics Community Summit last October, many Microsoft… Read more » The post Microsoft Dynamics GP – A Look to the Future appeared first on LBMC Tech.

The LBMC team recently returned from the Microsoft Community Summit… Read more » The post The Future of Microsoft Dynamics GP – What is the Roadmap of GP and What Will Your Organization's GP Journey Look Like? appeared first on LBMC Tech.

Ransomware and cyberattacks increase on a daily basis. Because of… Read more » The post A Business Owner's Guide to Cybersecurity Insurance appeared first on LBMC Tech.
Get LBMC Technology Solutions Alerts Delivered Right to Your Inbox