IT Security
Every day IT security threats and security breaches increase and companies struggle to keep up. With LBMC Technology Solutions, you can scale up your security resources without adding staff or a whole security team – saving you time and money, while increasing the security of your data.
We will help you set yourself up for success. The needs of networks can vary based on the size and type of organization. Determining how to best protect your assets and educate your employees can present unexpected and unique challenges. If you're looking for some guidance on how to best secure your networks, just let us know. We can help you get started today with our different types of it security.
Client Testimonials

"For Symmetry Surgical, LBMC first helped us implement best practices in our basic operations, coming alongside our internal resources to provide additional help in network infrastructure, help desk operations, and international location support. Since then, LBMC has played a key role in providing a significant amount of expertise in ever-changing areas such as cyber-security and database optimization. We value our partnership with LBMC Technology Solutions."
CFO Symmetry Surgical

"Since 1996, LBMC Technology Solutions has been our software development partner. During this 20 plus year relationship we have asked LBMC to create, implement and support more business-critical applications that I can count. Without their expertise, professionalism and dedication to executing on time, we wouldn't be the company we are today."
Jim Thomas, COO at T&C

"I must say how great it has been to work with Robert and his Network Administration team and that LBMC Technology Solutions' has done an extraordinary job. It is very gratifying to enjoy such a long-term relationship with a partner like LBMC Technology Solutions', which now covers about 15 years for me personally, and to have them come through for me again and again when I've needed them. We look forward to continuing the work between FRN and LBMC Technology Solutions' going forward."
Richard Rodgers COO, Foundations Recovery Network
Firewall Management
What is a firewall? At the root, a firewall is your first line of defense in network security and monitors incoming and outgoing network traffic. This is the core component in your business security.
Whether you are a large corporation or a small business, the barrage of attacks and malicious software against your systems and users is constant. For this reason, it is critical that you have a strong firewall solution that includes the latest threat protection using the best types of network security.
LBMC Technology Solutions partners with industry leaders to offer clients best-in-class firewall products. We use a wide variety of network security services, ranging from standard intrusion prevention systems (IPS), URL filtering, Gateway AV, application control, and anti-spam services for combating advanced threats such as file sandboxing, data loss prevention, ransomware protection and more to increase your endpoint security.
Benefits of Firewall Management
Firewall configuration to meet industry security best practices
Threat monitoring
Threat and user activity reporting
Next Generation Firewall – Firewall software updates to protect against the latest threats
Mobile Device Management
Mobile devices are a way of life for most businesses. Keeping these mobile devices secure is a huge challenge for many organizations. Developing a mobile application strategy that fits the needs of your business while helping your team stay productive and secure is important in any business strategy.
LBMC Technology Solutions is proud to offer Mobile Device Management through Microsoft Intune. Mobile device ecosystems can be very diverse, and Intune can securely manage iOS, Windows, Android and MacOS devices from a solitary, unified mobile solution. Provide your users what they need to do their best work wherever they are, on whichever device they choose.
Benefits of Mobile Device Management
Cloud Security – Achieve higher IT efficiencies with cloud based protection – no more on-premise servers
Protect your sensitive data regardless of device enrollment
Support mobile devices of any kind
Variety of management scenarios available
Multi-factor Authentication
The old days of having a good, strong password are gone. And, let's face it – most people never really had a good password; and if they did, it was taped to their monitor allowing anyone access to network. That is where multi-factor authentication (MFA) comes in. It combines something you know (i.e. your password) with something you have (i.e. code from your mobile phone) to deliver a much more secure authentication method.
Since everyone now carries a mobile phone with them, you no longer require expensive token cards or key fobs to implement MFA. A company can send a temporary code to your mobile phone via text or call to complete the authentication process. Even if someone knows your password, they will not have the code, which only lasts for seconds. LBMC Technology Solutions can assist your business with securing your authentication process with an MFA solution.
Benefits of Multi-Factor Authentication
Secure Networks
Token cards and key fobs no longer required
Antivirus & Anti-Malware
The threat of viruses, malware and other cyber terrorism acts have sadly become a part of our daily lives. Computer viruses were once simple and limited…now we are faced with advanced malware threats, phishing scams, key loggers, ransomware and more. These virtual threats will attack you through every electronic method possible; infected bogus package delivery messages, the infamous rich Nigerian prince, an email attachment that attempts to encrypt every file in your organization, accidentally visiting an infected website – the perils are virtually everywhere.
Your organization needs a vigilant protection system. LBMC Technology Solutions provides a layered approach to addressing this ever-present threat. Our antivirus and anti-malware solutions are configured to provide highest levels of protection, while having minimal impact on system performances.
Benefits of Antivirus and Anti-malware
Safeguard against hackers, viruses, malware and leaks
Peace of mind knowing your technology infrastructure is secure
Robust protection and around-the-clock monitoring
Scalable services to meet your organizations budget and evolving risk profile
Intrusion Prevention
Just as we protect our homes and personal belongings from intrusion, the same diligence must be made for our organizations' computer networks. Intrusion prevention is the preemptive measure taken to identify potential threats and respond to them immediately.
At LBMC Technology Solutions, we take a two-part approach to Intrusion Prevention: managed intrusion prevention, and managed intrusion protection.
We first identify hostile activity in real time and take immediate action to block and thwart undesirable network traffic; combine this with our 24/7 monitoring to immediately detect and report unauthorized access attempts and suspicious activities. Each intrusion detection and intrusion prevention alert includes a thorough analysis and specific steps to take to eliminate the threat.
Benefits of Intrusion Prevention
Safeguard against hackers, viruses, malware and leaks
Peace of mind knowing your technology infrastructure and computer systems are secure
Robust protection and around-the-clock monitoring
Scalable services to meet your organizations budget and evolving risk profile
Social Engineering
Threat actors are always thinking of new ways to target individuals and businesses, trying to acquire personal information, login credentials, or other sensitive information. One of the most common trends today is social engineering. Social engineering is pretending to be someone else to fool a person into revealing sensitive information, passwords, or other information that compromises a target system's security. Do not become a victim of social engineering by unwittingly giving out information to an unknown person. A skilled social engineer will convince you that a). they are someone they are not and b). there is no harm in giving them the information they are requesting or entering information on malicious websites that appear to be genuine.
Always remember, that social engineering can happen through multiple sources such as email, text messages, and telephone calls. Take these steps to help ensure that you don't become a victim: Authenticate, Authorize, Make A Phone Call Back, Don't Be Pressured, Be Alert, Be Polite but Firm, and Report. With the rising amount of ransomware attacks and phishing messages, cyber security has never been more important than it is today.
Another rising trend alongside social engineering is more and more scams on the internet, to learn more read our blog post about common Facebook Marketplace scams.
Social Engineering Tactics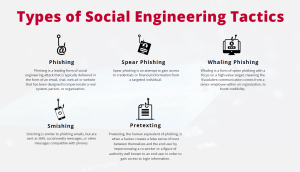 Phishing Indicators Example
Phishing emails are becoming more sophisticated and difficult to distinguish from legitimate emails. By impersonating a reputable company's communications (with pretexting attacks), these emails tend to use clever and compelling language, such as an urgent need for you to update your information or communicate with you for your security. To spot a phishing email, look for a combination of red flags. In this example, notice:
1. Non-Wells Fargo email address: The email address of the sender does not include the wellsfargo.com domain name, instead using something like "comcast.net": WellsOnlineBank2@comcast.net.
2. Urgent call to action: The email includes an urgent request in the subject line and message copy, such as "for your protection and for security reasons." Phishing emails may also contain extra spacing or unusual punctuation in addition to other red flags.
3. Suspicious URL: The email contains a link to a non-Wells Fargo URL, which could be a fraudulent website. If you're using a laptop or desktop computer, you can check a link's URL by hovering over it with your cursor, and the URL will show in your browser window.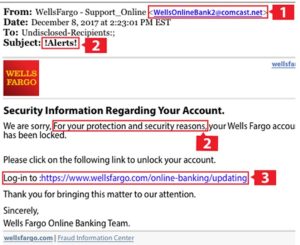 Smishing
How to recognize smishing.
Smishing attacks (SMS Phishing) use similar techniques as phishing emails: a sense of urgency to secure your account or verify your identity, using words like "locked," "deactivated", or" for your protection" to describe your account status. These smishing attacks may prompt you to call a phone number, click on a link, or respond directly with personal or account information. To spot a smishing text, look for a combination of red flags. In this example, notice:
1.Suspicious sender: The text was sent by an unknown phone number, instead of one of Wells Fargo's official short codes: 93557, 93733, 93729, or 54687.
2. Unusual text treatments: The text message contains a combination of unusual text treatments, including all caps, arrows, ID numbers, and an exclamation point.
3. Unprompted identity request: The request to verify the recipient's identity was unprompted. Wells Fargo will request to verify your identity via access code only when prompted by an action that you have initiated, such as signing on to online banking or sending money.
To learn more about social engineering and how to protect yourself, check out our podcast.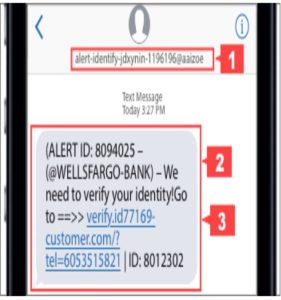 What Makes LBMC Technology Solutions Different?
For over 20 years, LBMC Technology Solutions has been inspiring greatness through technology. We understand how important a reliable technology infrastructure is to your one-of-a-kind business. As your partner, we evaluate your unique business processes and current systems, then identify and apply the most effective solutions.
LBMC Technology Solutions is an award-winning reseller of recognizable industry standard software. If your business needs are beyond what an out-of-the-box software can offer, we will tailor a custom software solution to fit your specific business needs.
Our consultants build connections, nurture innovation, establish ongoing communication, and collaborate with you to architect the best system integration option to help you run your business better. We value our clients' experience and have made it a critical part of our solutions to ensure we are earning your trust and becoming a long-term partner as your company grows.
Whether you need to supplement or outsource a single function, need an ally you can trust, or are in the market for a comprehensive business partner, LBMC Technology Solutions and our Family of Companies can simply be whatever your business needs us to be.
Contact Us
We're happy to answer any questions you may have. Please send us an email using the form and one of our professionals will get back to you promptly.
Headquarters – IT Security Nashville, TN:
201 Franklin Road
Brentwood, TN 37027
Phone: 615-377-4600
Office Hours: 8am-5pm, Monday-Friday
IT Security Charlotte, NC
3800 Arco Corporate Drive, ​Suite 250
Charlotte, NC 28273
704-846-6750
IT Security Knoxville, TN
2095 Lakeside Centre Way
Knoxville, TN 37922
865-691-9000
Inquiries
To better serve you, please review our communication options for the best way to contact us.
If you are seeking general information. Please check out our FAQ page.
If you are interested in more information, complete the form below to have an LBMC Technology Solutions expert contact you.
RSS Error: A feed could not be found at `https://www.lbmctech.com/feed/`; the status code is `503` and content-type is `text/html; charset=utf-8`