AIA Billing for Sage Intacct
Construction billing software made easy. ProForm is a subscription-based software module developed by LBMC Technology Solutions that integrates AIA Billing capabilities directly into Sage Intacct's ERP accounting platform.
ProForm makes it easy for commercial specialty contractors, subcontractors, and specialized service providers to incrementally invoice for work completed on large scale projects with multiple milestones and long timelines. ProForm is designed to help specialty trade contractors and sub-contractors such as fire/security solutions, plumbing, heating and air, electrical, masonry, carpentry, or roofing contractors overcome the challenges they face when trying to get paid on a project.
4 Ways Progress Billing Can Expedite Growth and Improve Cash Flow
Will your accounting system be ready when a client requests a project bigger than anything you've worked in the past? Tracking costs and milestones over months or years can get complicated quickly. You may be asked to generate hundreds of invoices across many different job sites. Will you generate enough cash flow to buy materials for the second phase of a project when the first phase is still being completed?
Experienced contractors know that the right tools are crucial to getting a job done efficiently, on budget, and with as few hang-ups as possible. Your business toolbox is just like any other – having the right platform and budgeting tools can simplify and expedite accounting and billing tasks, while improving cash flow and powering long term growth.
1. Drive Operational Efficiencies, Reduce Errors
It is well known by accountants how challenging and time-consuming it can be to complete the proper AIA billing forms accurately and on time. In addition, many hours of productivity are lost when AIA billing is managed in a separate software program that requires time to be spent on manual re-entry of redundant data. Although, the impact extends beyond productivity losses. When working costs and overall job costs on a project are kept in separate systems, decisions may be made without all the information on a project.
That's why we're excited to introduce our latest software development solution, ProForm. ProForm is a progress billing module that installs into Sage Intacct's accounting platform to streamline and automate AIA billing requirements for commercial service contractors and subcontractors. ProForm simplifies the managment of large projects with multiple milestones to improve cash flow.
ProForm's complete integration with Sage Intacct, eliminates the redundant data-entry required when project billing is managed in a separate system or spreadsheets. This provides valuable benefits across the organization, such as reducing time-consuming data entry, eliminating the potential for math errors that can cause applications for payment to be rejected and delay billing, as well as freeing up more time for value-added tasks.
2. Extend the Value of Sage Intacct, Grow Your Business
Built upon Sage Intacct's cloud-based accounting platform, ProForm extends the value of existing technology investments with the ability to seamlessly share information between Sage Intacct and the ProForm module. ProForm makes it easier to run a successful contracting business by streamlining the billing workflow and eliminating the need to manage the schedule of values, retainage and the AIA billing in separate systems. With its tight integration with Sage Intacct, ProForm delivers greater visibility into projects so that well-informed decisions can be made.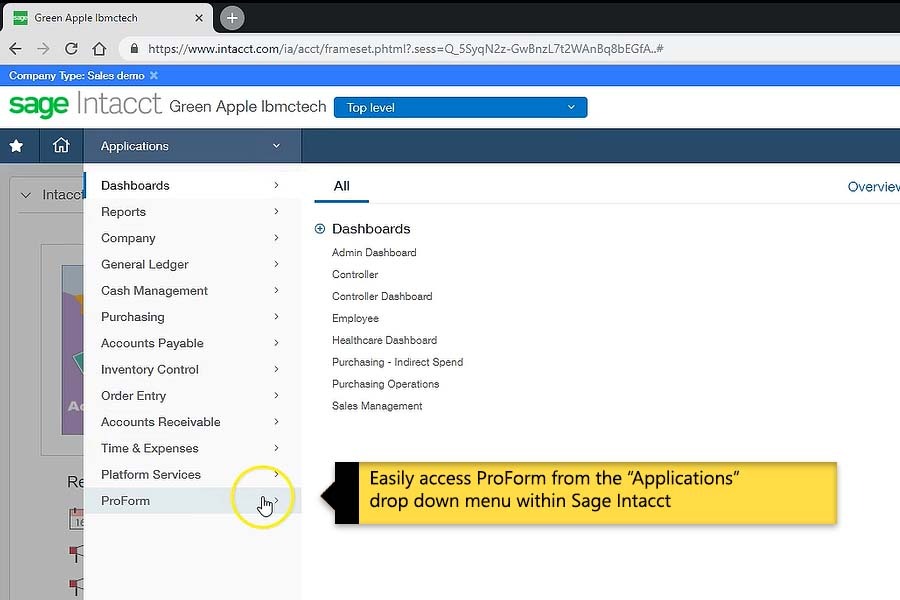 "ProForm provides VSC with a comprehensive construction billing solution that improves team collaboration and ensures we have accurate data to get invoices approved and paid faster."

Kyle Kienzle, Director of Applications for VSC Fire & Security
3. Track Progress with a Detailed Schedule of Values
A detailed Schedule of Values (SOV) enables individuals who are responsible for assessing the amount of progress completed on a job to determine how far along a contractor is on each line item of work. The SOV can be a critical component to ensuring contractors get paid, and, how they are prepared can make or break a project's bottom line.
With ProForm, it is easy to stay on track with the SOV. ProForm provides a framework for relating a project's SOV to a Sage Intacct project to keep track of the contracted list of work items on a project, what has been completed and what is left to be done-making it easy to support profitabiilty reporting and assess project progress. As projects unfold it is common for changes to the scope of work to occur. With ProForm, change orders are easily entered and adjustments are made.
4. Simplify, Manage, Expedite Billing to Improve Cash Flow
Most construction projects require a percentage of the contract price be withheld from the contractor or subcontractor during the term of the project. This withholding is called retainage. Retainage serves to protect stakeholders in the event problems arise and creates a financial incentive for contractors to finish projects. Although withholding money from contractors is a common practice, the process for tracking and managing withheld money can be complicated for everyone involved.
ProForm enables contractors to simplify and manage retainage with a method for calculating retainage percentages that automatically creates the related retainage General Ledger entries. When change orders are made, ProForm automatically posts adjustments, automates the creation of sales invoices for Accounts Receivable aging and payment applications, as well as generates the G-702 and G-703 forms required to support AIA Billing requirements. ProForm enables contractors to speed the billing process, improve cash flow, and support their ability to manage larger projects to grow their business.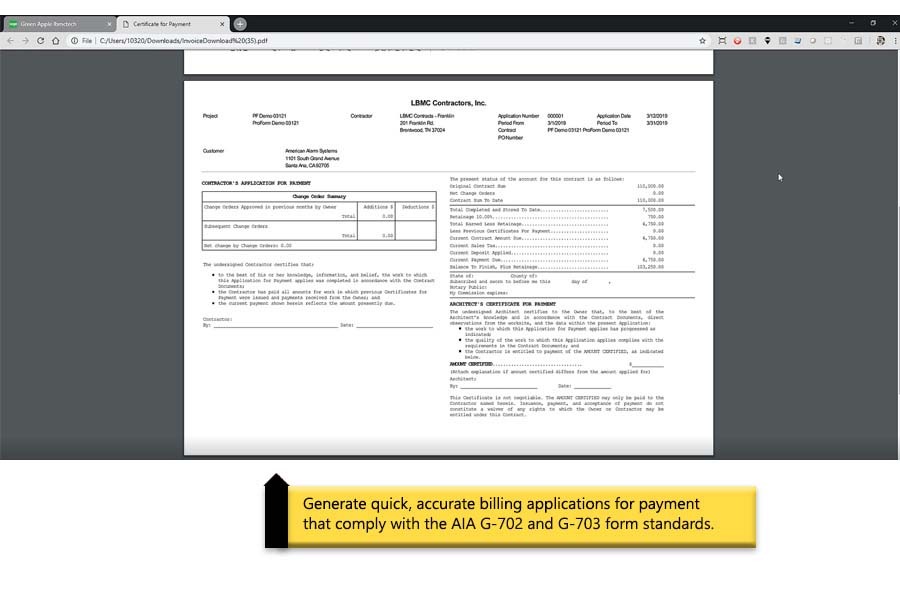 For subcontractors, and specialized service providers, accurate and expedited billing is essential in keeping business running smoothly. With ProForm, you can rest easy knowing clients and partners are happy and your business is positioned for growth because you have the right tools for the job.
ProForm Software Features
Contact Us
We're happy to answer any questions you may have. Please send us an email using the form and one of our professionals will get back to you promptly.
Headquarters – ProForm (AIA Billing) Nashville, TN:
201 Franklin Road
Brentwood, TN 37027
Phone: 615-377-4600
Office Hours: 8am-5pm, Monday-Friday
ProForm (AIA Billing) Charlotte, NC
3700 Arco Corporate Drive, ​Suite 175
Charlotte, NC 28273
704-846-6750
ProForm (AIA Billing) Knoxville, TN
2095 Lakeside Centre Way
Knoxville, TN 37922
865-691-9000
Inquiries
To better serve you, please review our communication options for the best way to contact us.
If you are seeking general information. Please check out our FAQ page.
If you are interested in more information, complete the form below to have an LBMC Technology Solutions expert contact you.